Today we announce that the first patient has been recruited to our Technology Clinical Trial 'Home monitoring of creatinine in cancer patients: assessing acceptability and clinical benefit'. The ultimate aim is to adapt the eligibility criteria for early cancer trials so that patients with controlled renal dysfunction can participate, something that they are currently unable to do.
This technology clinical trial will test a home-based monitoring approach using a device, data capture via a smartphone, and risk-categorisation.
To see how our home-based monitoring approach works watch the Technology Clinical Trial video
What is a Technology Clinical Trial?
A trial that tests a technology solution, digital tool or new care pathway under the same clinical trial conditions as those used to test new drugs.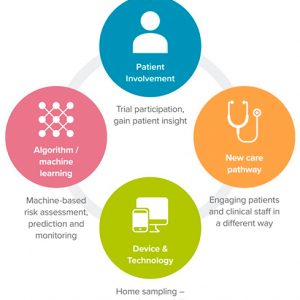 What will the IN HOME trial achieve?
The purpose of the IN HOME trial is to characterise and assess the acceptability of a home-based approach using a point of care creatinine meter and application of data science to enable personalised risk-based monitoring.
The IN HOME trial has two parts:
Part A) assessing the feasibility and acceptance of patients measuring at home
Part B) understanding the potential for earlier diagnosis of changes in renal function through intensive home-monitoring.
View the protocol here
How has this trial been developed?
Through a unique nephro-oncology collaboration with the renal medicine team at the Manchester University NHS Foundation Trust, we have been able to explore the interface between the two specialities and assess the application of data science for personalised risk-based monitoring for patient benefit. We have a Design Lab based in the Clinical Research Facility at The Christie where we were able to work with patients to explore the acceptability of the device and a home-based approach.
This innovative and exciting trial may change the culture of clinical trials and improve the options for patients with reduced kidney function.
Quote from Leanne Ogden
"Our nephro-oncology technology clinical trial has the potential to challenge and change the current Inclusion criteria in clinical trials. I would like to see populations within clinical trials become truly reflective of the 'real world' including patients with all levels of kidney function" – Leanne Ogden, digital ECMT, Clinical Research Fellow, Principal Investigator for the IN-HOME trial
Quote from Dónal Landers
"For too long, patients with renal impairment have been excluded from clinical trials, which denies them the opportunity to access new cancer therapies. Our IN HOME trial seeks to address this issue through improved detection and monitoring of acute kidney injury in the patients." – Dónal Landers, Director