In 2019 the digital Experimental Cancer Medicine Team within the CRUK Manchester Institute Cancer Biomarker Centre, along with our EU colleagues, including those from Fondazione IRCCS Istituto Nazionale dei Tumori Milano and Instituto de investigación Oncologica de Vall d'Hebron, Barcelona were awarded a CRUK Accelerator Award to enable SMART Experimental Cancer Medicine Trials.

The ambition of this new programme, entitled "UpSMART", is to 'digitalise up' experimental cancer medicine centres across the UK, Italy and Spain, providing clinical teams with digital tools for real-time access to a wealth of patient data allowing faster decision making.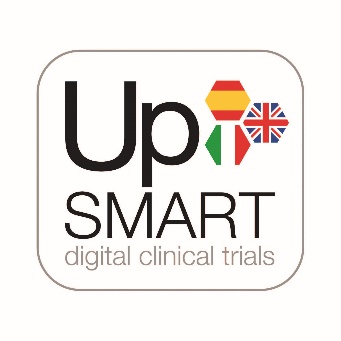 The Accelerator Award funding means that the Experimental Cancer Medicine Centres/Early Drug Development Units in the UK, Italy and Spain can use digital healthcare products to enable data acquisition and data interpretation and create digitally enabled Phase 1 centres able to conduct technology clinical trials. The key areas of the programme will cover:
• training centres on conduct of technology clinical trials
• development of digital tools for clinical trial data capture
• integration of phase I trial data points for decision making
• creation of a digital network coordinating hub
The UpSMART accelerator programme will test existing digital tools within 23 Phase 1 Units that have joined this aspiring, timely programme. UpSMART will be developing and providing all clinical sites with access to new digital healthcare technology approaches and improvements in trials that enable patients access to tomorrow's medicines today. Our goal is for these and other digital healthcare products to be shared and implemented more widely together with training in digital healthcare product approaches.
As part of the collaboration the digital ECMT will provide expertise and innovation for new digital technologies, developing prototype digital technologies from the centres and enhance existing ones to make them available across the participating centres.
More companies are turning to clinical testing of digital healthcare products and the appraisal of technology under clinical trial conditions. Phase 1 technology clinical trials are different to drug trials and the challenge can be determining the appropriate regulatory pathway and process. We have developed a regulatory framework to facilitate implementation of technology clinical trials and centres will need support and training on how to conduct clinical trials of new digital technologies.
Developments in mobile technologies, home test-kits and sensors mean that data acquisition can be extended outside the hospital to a patient's home allowing more data to be collected and the potential to develop risk-based monitoring approaches.
Being able to visualise and interpret the vast amounts of data generated in an early phase clinical trial in near real-time is key to accelerating drug and technology developments for the benefit of patients. The digital ECMT has developed a research platform- "ACUITY" (formerly known as REACT) to enable the visualisation and interpretation of data.