The digital ECMT brings researchers, clinicians, technology and patients together to innovate in early clinical trials. Our aim is for patients, carers and families to work in partnership with researchers on clinical trials and new technologies.
We conduct research and trials that improve decision-making by:
Changing the design, delivery and interpretation in early clinical trials
Developing new care pathways that involve new methods for engaging patients and clinical teams in early clinical trials
Changing the role of the patient from a passive subject to an active participant and co-researcher in early clinical trials
Hypothesis testing, proof of concept and prototyping for new technology, digital solutions, devices, data-science tools and techniques
Technology Clinical Trial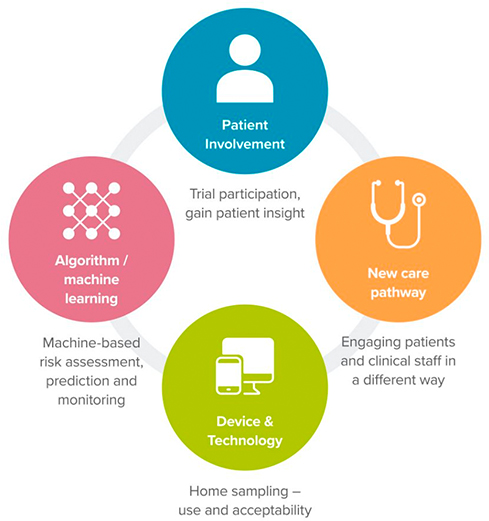 We develop and deliver Technology Clinical Trials, which aim to characterise devices, technology and solutions under clinical trial conditions.
The first Technology Clinical Trial, PROACT (Patient Reported Opinions About Clinical Tolerability) is ongoing with a further clinical-trial-in-the-home for renal monitoring planned or 2019.
Design Lab
Our Design Lab is a dedicated innovation space, located in the Phase 1 trials unit at The Christie, where we can gain insights from patients, carers and staff. We ensure that solutions and research designs are co-created form both a scientific and user perspective.
We explore the use of technology to deliver aspects of an early clinical trial outside of the hospital and taking the clinical trial to the patient. The potential benefits include:
1) adaptive eligibility criteria through improving risk monitoring for patients
2) greater data capture of key clinical variables in the first cycles of treatment for enhanced decision-making
3) potential to develop predictive analytics and new endpoints.
Publications
Alahmadi, A et al. Evaluating the Impact of Pseudo-Colour and Coordinate System on the Detection of Medication-induced ECG Changes
Computing Systems, CHI'19 Proceedings of the 2019 CHI Conference on Human Factors in Computing Systems
Paper No. 123
Rothwell et al. Utility of ctDNA to support patient selection for early phase clinical trials: The TARGET Study.
Nature Medicine 25,738-743 (2019)
Home renal monitoring for patients: technical assessment and patient acceptability
Ogden, L., et al. NCRI Cancer Conference abstracts British Journal of Cancer volume 119, pages 11-12 (2018)
Pharmacy App – Can we use a mobile phone app to improve patient/staff experience to show the collection availability of intravenous clinical trial treatment at The Christie CRF?
Patel, A. and Bradford, B.
Abstracts (2018). Journal of Oncology Pharmacy Practice, 24 (8_suppl), 18.
eTARGET a digital science solution to integrate clinical and genomic data for the Manchester Molecular Tumour Board (MTB)
Stevenson J, Ayub M, Dransfield S., et al.
ESMO Open 2018;3:doi: 10.1136/esmoopen-2018-EACR25.580
Development and Evaluation of a New Technological Way of Engaging Patients and Enhancing Understanding of Drug Tolerability in Early Clinical Development: PROACT (Patient Reported Opinions About Clinical Tolerability)
Hughes, A., Landers, D., Arkenau, HT., et al.
Adv Ther (2016) 33: 1012.